Somaliland to Be Part of Ethiopian Grid
ETHIOPIA: Thursday 8  March  2012 (DjibTalk)  — The Ethiopian Electric Power Corporation is planning to put the south-eastern border town of Somaliland on Ethiopia's grid. Initial work to install electric tr
Somalia bombing kills at least 12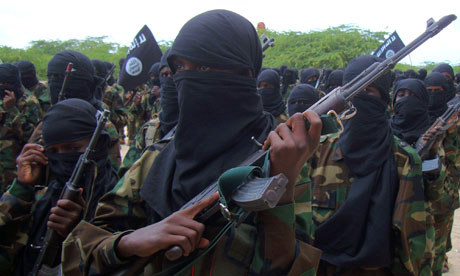 SUDAN: Tusday 10  March  2012 (DjibTalk)  —  At least 12 people died in a bomb attack in Somaliaon Monday targeting Somali and Ethiopian troops in a busy market in the southern city of Baidoa, witnesses and officials said
Somalia: Kenyan troops destroy Al- Shabab camps
Mogadishu Friday 25 November 2011 (DjibTalk.com) Air strikes by the Kenya Defence Forces have destroyed two Al Shabaab camps identified as Wamaitho and Kisima near the town of Babade in Somalia, killing seven militants and injuring eight
Ethiopian gunmen attack Sudanese governor
ETHIOPIE: Wednesday 11  March  2012 (DjibTalk)  —  A convoy carrying the governor of Sudan's eastern state of Al-Qadarif across the shared borders with Ethiopia on Sunday was attacked by suspected
Ethiopia urged to back war against Shabaab
ADDIS ABABA, Nov 25 – East African leaders urged Ethiopia on Friday to support Kenyan, African Union and Somali troops battling Islamist Shabaab rebels in the war-torn Horn of Africa state. Ethiopian troops are reported to have crossed last week into neighbouring Somalia, but Addis Ababa has denie...
Protesters clash with police in Caracas
VENEZUELA: Tuesday 04 March 2014 (DjibTalk) — Anti-government protesters and security forces have clashed in Venezuela's capital city of Caracas, clashes broke out on Monday after dozens of protesters in a middle-class district threw rocks a...
Read More...
Russia president raps Ukraine events as 'a coup'
IRAN: Tuesday March 4, 2014 Russian President Vladimir Putin has denounced Ukrainian opposition's power grab as a coup, noting that Victor Yanukovych remains legal president of Ukraine. According to the reports, speaking to media in a news con...
Read More...
DJIBOUTI: The Minister of Muslim Affairs in Doha, Qatatr
DJIBOUTI : Monday, February 3, 2014 - As part of strengthening relations of cooperation and exchange of ideas in the religious and cultural sphere , the Minister of Muslim Affairs , Culture and Waqf property , Mr. Hassan Aden Aden conducted a working visit to Doha , Qatar, from...
Read More...
First << 1 2 3 4 5 6 7 8 9 10 >> Last